Massage Therapy at Harmony Chiropractic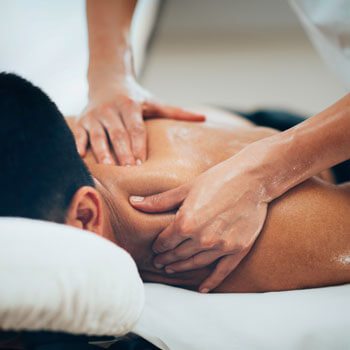 While massage is often considered to be a relaxing therapy that you'd experience at the spa, this type of bodywork has many other benefits as well. Here are some of the many that you may experience:
Relieves pain
Reduces stress and tension
Decreases anxiety and depression
Promotes overall relaxation
Improves posture
Our massage therapists are proficient in an array of techniques and will tailor the ones to meet your goals. The massage methods all involve working the muscles and other soft tissues of the body to improve the function of the systems of the body.
Frequently Asked Questions
How will a massage benefit me?
Massage therapy has numerous benefits including reducing stress, pain and muscle soreness. It can improve circulation and energy, while lowering your heart rate and blood pressure.
How does massage correlate with Chiropractic care?
Massage therapy compliments chiropractic care by taking tension out of the muscles and joints, maintaining the adjustment and prolonging correction.
What should I expect when booking a massage?
Our massage therapist will provide a professional service with a clinical mindset – offering a collaborative effort between practitioners. Your massage therapist will work with Dr. Kurt and listen carefully to the needs that you want to address during your massage session. Using this information, and your preferences, they will determine what type of massage to use as well as the amount of pressure needed.
Book a Session
Contact us today to schedule a session!
CONTACT US »
---
Massage Therapy South Elgin IL | (847) 289-8282