New Patients at Harmony Chiropractic
What to Expect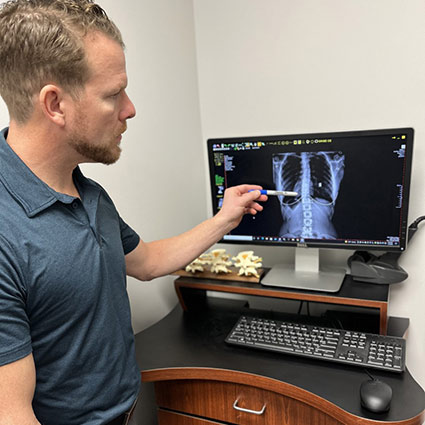 A visit to Harmony Chiropractic feels like home. Along with their high-energy staff, Dr. Curt Buss and his wife Lisa want you to feel welcome and informed, with clear and concise communication from your first call throughout your plan of care. Here, we love helping patients live better, healthier lives, without drugs or surgery.
Harmony Chiropractic isn't a typical chiropractic care office. We offer the most comprehensive care in the Chicagoland area, diving deep into what is causing your pain, not just temporarily limiting your symptoms. We can help you find lasting relief and get to the root cause of your pain, ending your discomfort for good.
Your First Visit
When you arrive for your first appointment, you'll notice right away you're treated like a member of the family. Dr. Buss does an efficient, yet in-depth examination. He will measure your range of motion, conduct a bilateral posture screen, do an orthopedic evaluation, as well as complete digital computerized thermography. Digital X-rays may also be taken to determine if there is spinal damage.
We are in network with Blue Cross, Aetna and Medicare and accepts all major
credit cards, HSA accounts and also has military discounts available.
Second & Regular Visits
During your second visit, Dr. Buss will take you through the results of your tests and with your permission, step into a conversation about how to correct the underlying problems and the framework for the treatments necessary to guide you to pain-free living. Once your treatment plan is in place, Dr. Buss will give you an idea of the estimated frequency of visits and financial investment.
Return appointments are quick and efficient, and patients are given complementary exercises to do at home to further the healing process. Dr. Buss and his staff are here to help coach you and cheer you on, as you find your way back to feeling better and unlocking your true potential.
Feel Your Best Without
Surgery or Medication
We want our patients to feel great and be the best version of themselves they can be naturally, without difficult surgeries or medications. Contact us today and let us know how we can help you!
CONTACT US »
---
New Patients at Harmony Chiropractic | (847) 289-8282